We recognize that you may not always have access to high quality wireless internet where you do your cardio, such as in a basement or a hotel gym.
But don't worry! BitGym allows you to download tours for offline use.
✅ This feature is available for any tour you have access to — even as a free user!
Downloading a tour
When you preview a tour that you have access to, find the ⬇️ download button indicating how large the tour download is. Tap it to begin the download. You can cancel a download by tapping the progress bar while the download is in progress, or the 🗑 delete button once the download is complete to remove the download and free up space on your device.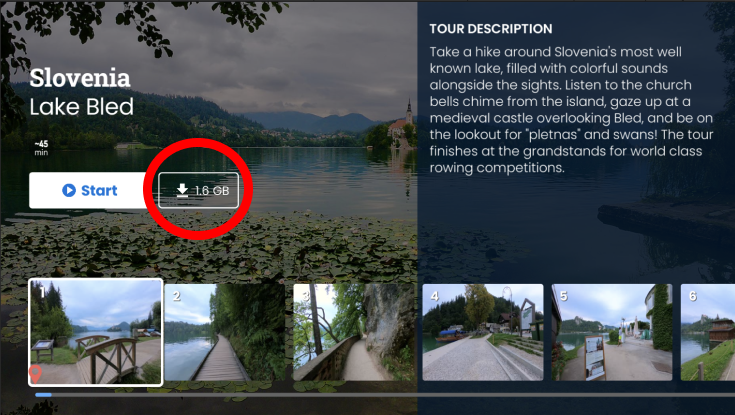 ⚠️ Downloading a tour transfers a lot of internet data — remember to do it over WiFi to prevent using up a lot of your cell phone plan data!
If you need more info, see our article on Troubleshooting tour downloads.
ℹ️ Once you download a tour, it will be used automatically even if you are online when you select that tour, to guarantee maximum quality, minimum stream buffering delays, and minimum data consumption.
Using downloaded tours
If you are online but you are worried about the reliability or quality of your internet connection, you can ensure you are using downloaded tours by switching to the "Saved Tours" category from the main globe menu.
While you are online, the "Saved Tours" category will also show you any in-progress downloads.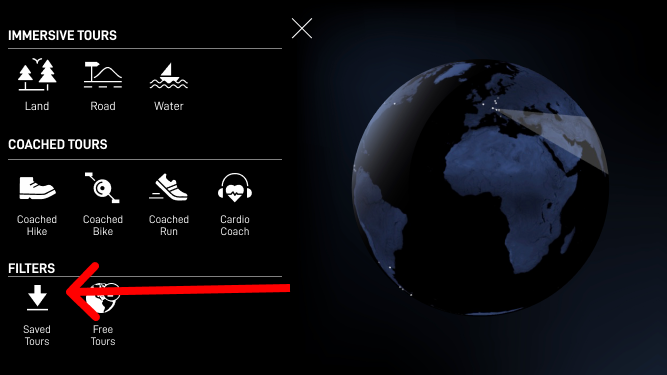 If you have no internet at all (eg: your device is on ✈ airplane mode), BitGym will automatically launch or switch to Offline Mode. You will only be able to access your downloaded tours.
ℹ️ The "Saved Tours" category and Offline Mode can be used for a BitGym workout only once you have downloaded at least one tour fully.

⚠️ Do not log out of BitGym in offline mode! Once you log out, you will not be able to access any premium content. If you are done with an offline workout, simply close the app and you can continue using it in offline mode on your next session.