Projecting BitGym videos onto a nearby television creates an immersive and compelling exercise experience.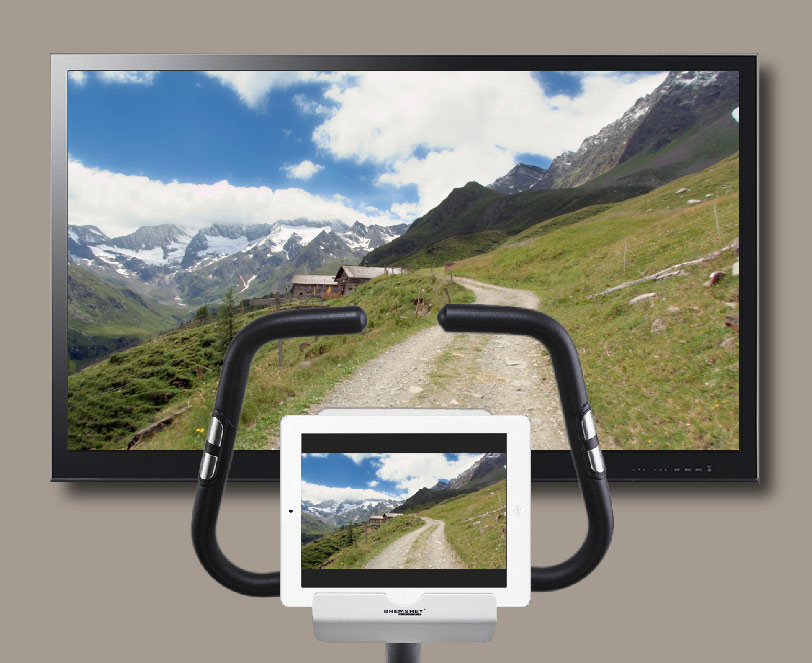 Depending on the devices you have available, you have several options.
Apple devices
🌟 BitGym runs on AppleTV 🌟
If you have an AppleTV, you can install the BitGym app directly on your AppleTV.
Learn more about BitGym on AppleTV.
iOS devices - HDMI
If you don't have an Apple TV set top device you can connect your iPhone or iPad with a Lightning to HDMI adapter (usually ~40 USD).
Long HDMI cables can be purchased inexpensively at monoprice.com or amazon.com. Please be aware third party adapters not made by Apple have many problems; lag, overheating, or frame skips.
iOS devices — mirroring to Apple TV
To mirror what's on your iPhone or iPad to your TV over to an Apple TV you need to enable Airplay Mirroring feature:
Bring up the Control Center but this time just from here tap Airplay Mirroring icon .
From the list select Your Apple TV or any other enabled Airplay Mirroring receiver you would like to use. If an Airplay passcode popped up on your TV screen then enter the passcode on your iPhone or iPad.
Once the AirPlay Mirroring is enabled, your iOS device screen will be mirrored on your Apple TV. I would like to mention that any media player has an Airplay Mirroring icon beside his playback you could simply use it since Airplay Mirroring is enabled on your iOS device.
If the "AirPlay" icon

is not visible in Control Center or you see a "Looking for Apple TV" message be sure that the Apple TV is online and active and on the same Wi-Fi network as your mobile device. To check the Wi-Fi network on your Apple TV:
Settings > Network (4th generation) -or-
Settings > General> Network (2nd or 3rd generation).
Enable AirPlay on Apple TV: Settings > AirPlay.
Keep in mind that AirPlay requires a strong wireless signal or else playback can be choppy or low quality. Try to ensure your wireless router, phone/tablet and television are as close together as possible without large metal objects (girders, metal floors/ceilings)
Android devices
🌟 BitGym runs on Google TV (formerly Android TV) 🌟
See our help article BitGym on Google TV
Smart device MHL HDMI output
Many more Android devices allow you to split a HDMI connection out of the micro USB or USB-C charging port. Confirm that your device's charging port supports the HDMI spec from manufacturer documentation before investing in an adapter and cable.
Once confirmed, selecting the correct MHL adapter can also be tricky. We suggest strictly purchasing official adapters from your smart device manufacturer which say they support your exact device.
Here is an example MHL 2.0 adapter for modern Samsung devices
⚠️ Reminder: If you use a different (non-Samsung) smart device, please reference your device manufacturer's documentation or website for an adapter compatible with your device model.
Android Devices with (Google) Cast
Modern Android devices can mirror their screen to a chromecast as well as an increasing number of smart devices that support the Google Cast standard, used by Chromecast and Roku.
In addition, many smart TVs are coming with Cast support, so it is worth looking up your model or just seeing if you notice the TV when you scan for available cast points.
Android Devices with Miracast
Each android device is a little different, but many (especially Samsung devices) have support for screen mirroring via miracast. To use this feature you will need a miracast receiver. We don't have an official recommendation for one, but suggest you buy one of the higher rated ones available on amazon such as the ScreenBeam Mini2.
Android Devices with Micro HDMI
A few Android devices have Micro HDMI ports, and these cables can be found on monoprice.com inexpensively.
Fire TV
See our help page on Fire TV for help installing.
Kindle Fire Device
Some Kindle Fire devices can wirelessly screen mirror to Kindle Fire TV and Fire TV Stick products. See instructions from Amazon.
Note that this feature seems to have been discontinued on newer Fire TV products and thus may not work for you.